SOCIALLY-DISTANCED TRAINING
Despite the multiple lockdowns this year, we managed to get back to the Evreham Dojo in October and December. There was no contact except for those in the same family (i.e. siblings) or those in a 'bubble'.
| | |
| --- | --- |
| | When it was warm, we continued with Judo in the Park throughout July and August. This is the first time I have run the club in August! |
---
BJA National Schools Championship
On the 15th March, at the BJA National Schools Championship in Sheffield, Jonah took the Gold in the under 66Kg year 12-13 category. In a category of 19 (of which only 16 showed on the day) his first contest was over in 17 seconds (most of which was grip fighting) and the second took a minute and a half. The third went almost full time because the opponent was overly defensive but ended up being disqualified after three penalties for passivity (i.e., he failed to carry out any attacks and just defended). The fourth, which was the final, didn't take Jonah long.
---
BJC AWARDS
Our clubs had two nominations for the BJC awards. One was for Grace in her determined battle to live her life normally and defy the forces that are attempting to deny her and the other was for Jonah as he continues to dominate BJC Judo now that he is a Senior.
| | |
| --- | --- |
| | Grace stands proudly and gracefully with her award which she accepted with good grace. She then said to her parents "I am very grateful that you gracefully agreed to bring me along tonight, you are the best Mum and Dad ever". |
| Grace and Sensei (who is holding Jonah's award as he was otherwise 'occupied' and sent his father as proxy) showing off their respective awards | |
| | Jonah, having previously won "Achievement of the Year", "Junior Male of the year" and "Junior Squad Member of the Year" goes for the full set with "Senior Male Judoka of the Year". |
---
Nage no Kata Course
The Nage no Kata course held in Berkhamstead went well with 9 in attendance including 3 from our own club.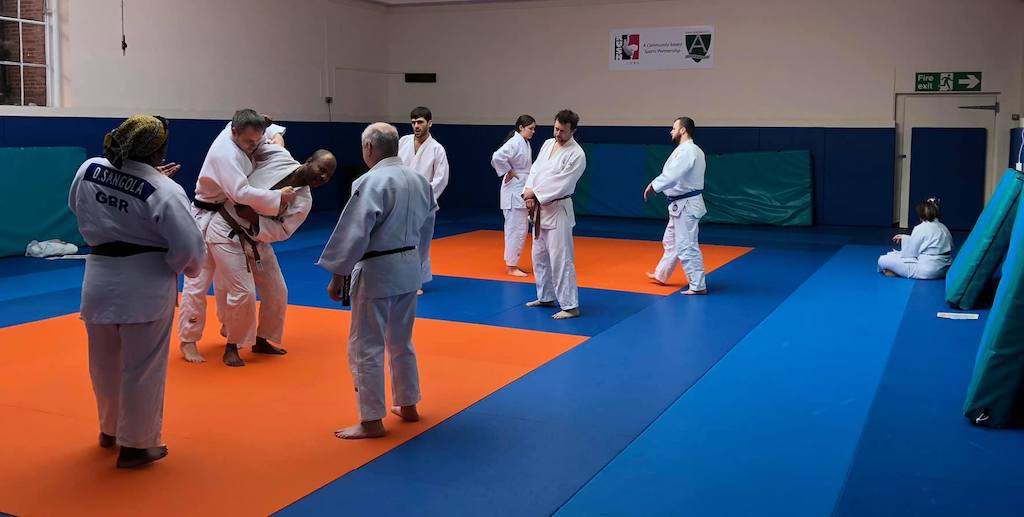 Here you can see Abbie (DCHS) practising with Chris (St. Katherines Judo Club) in the background whilst slightly forward, Tom (Evreham) is watching Alain (London School of Judo) demonstrate on Andy (Bayford) whilst Sensei (with his back to the camera) observes and provides appropriate feedback along with some appalling jokes.
Grace (Chalfont) is in the background sitting down after working with commendable determination for the full day. Grace, along with Abbie attended and put in the effort with a view to being able to take part in Kata events later in the year.